As far as I'm concerned, I was born singing.  
Pretty sure my newborn cries were on key, and my beloved mother's medical team gave me a standing ovation while heralding me into this world.  
I kid, of course... but music did come naturally to me.  
While it's difficult to truly capture all the things that led me into creating my music today, I'd like to give you a little peek into who I am—how I fell in love with songs and poems, how that little boy from Ohio became Abandoned Mansion.  
Where It Began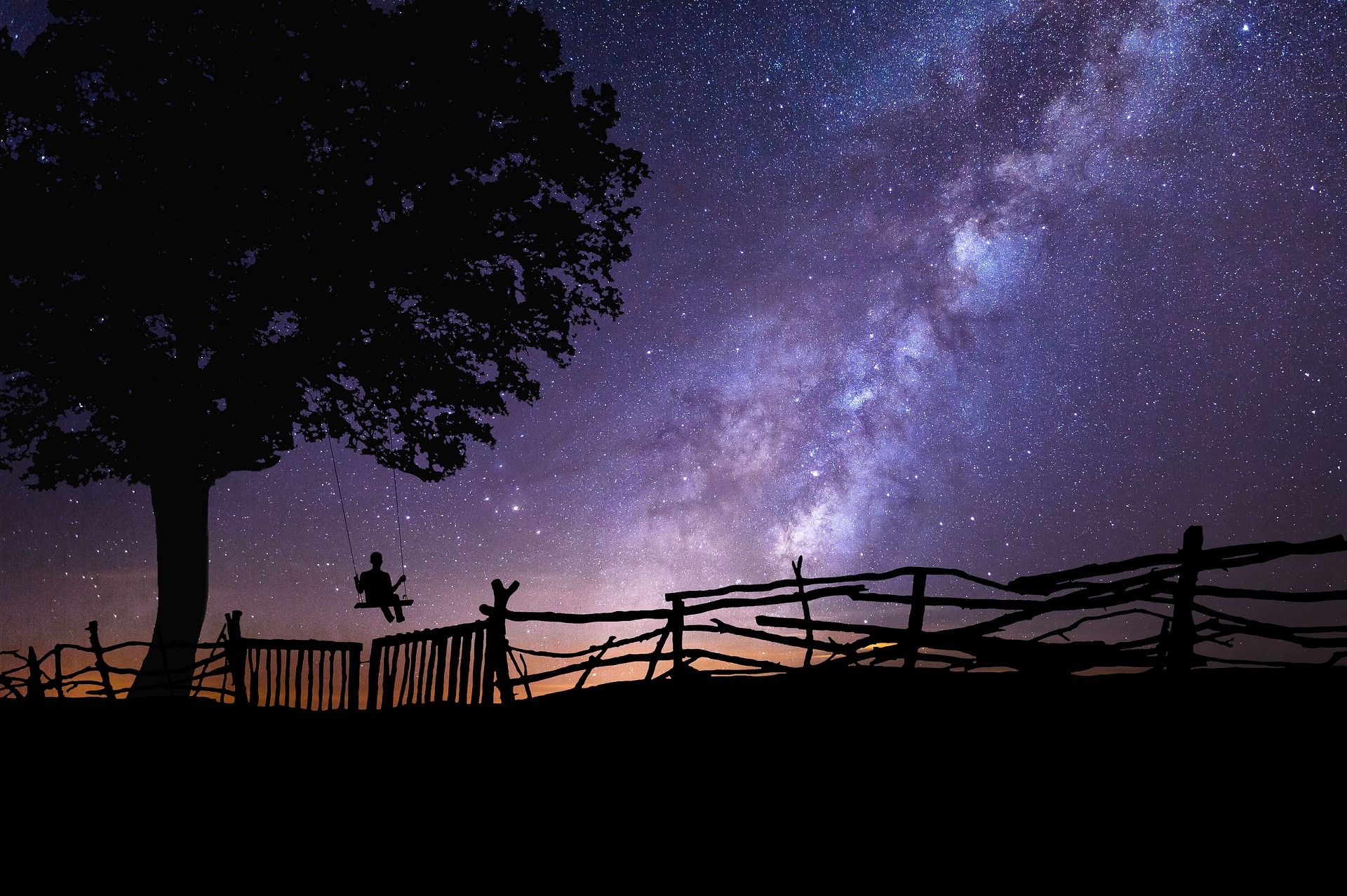 I've always loved reading stories and poetry, but I was born with a deep musical sense. As a boy, I used to sit on a swing for hours at a time making up music and songs in my head.  
I was born in Ohio, and I grew up loving all kinds of music. If you get to access my playlist, you'll see an eclectic mix of songs—a lot from the greats, some guilty pleasures like everyone else.  
But if I had to pick artists who had major influences in my music, I'd go with Bob Dylan, TS Eliot, William Butler Yeats,  The Rolling Stones, Sade, Dave Brubeck, Steely Dan and Antonio Carlos Jobim.  
The Rolling Stones, "Jumping Jack Flash" on Youtube 
I had written poetry for years, but it was only when I picked up a guitar that my words began to express what I really wanted through singing. I started writing my own songs about a year after picking up a guitar. I knew immediately it was what I was born to do.  
I was born to create.  
Abandoned Mansion: Born Out of Desperation 
 
Abandoned Mansion was born out of desperation… a need to be alive, to move beyond the hum-drum of my nine-to-five life, to get back in touch with that young boy on a swing back in Ohio and be what I was born to be.  
Life sometimes tends to bury what truly makes you feel alive. But the good news is, you are in control of this.  
I learned that you don't have to let the monotony of life's routine lure you into thinking that you're trapped, that this is it, that it's too late to find what would make your heart sing. No matter your age or your current situation, you can still break free of running on that damn treadmill.  
And that's what I did.  
I picked up a guitar in 2011. I didn't have the confidence that I can do it, but I taught myself to play, to write songs and I'm still learning every day.  
In 2014, Abandoned Mansion was born.  
The name just came to me. It really resonated with me, and where I was while I started a new adventure.  
You know, in order to go forward, sometimes you have to leave some things behind. And sometimes you may have to leave a lot behind.  
First Songs, Writing Process  
"Sliver In the Sky" on Youtube 
In 2015, I shared my first song online, "Sliver In the Sky".    
I was very nervous about it, especially my singing, but the song had the underlying feeling I was after and sounded good enough to share, especially the quality of it.  
I really didn't like the sound of my singing voice for a few years, but that's all changed. Now I see it as one of my best things artistically. It carries the feeling and creates the colors of my songs. I try to keep it front and center now.  
"Tigerlily", released in 2015, was also a turning point for me. It came from a deeper place than I had written from before, and the song kind of wrote itself.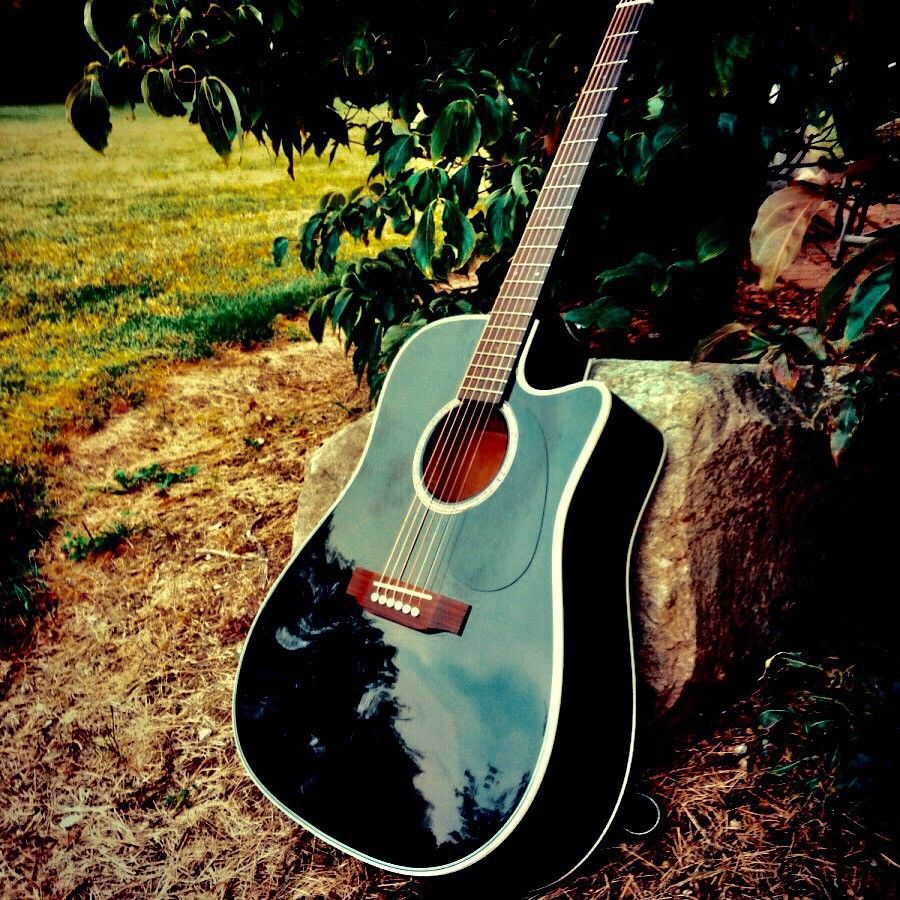 My summer songwriting "office" and my Takamine guitar.  
I play all the instruments on my recordings except drums (which I program). Rhythm and lead guitar, all keyboards, bass and writing, arranging and singing are all mine.  
I connect emotionally to music and words. I feel them, and it's just natural for me to recreate those feelings in songs for others. That's my mission as an artist really—to make an emotional experience for others.  
When it comes to my process, I almost always start with an acoustic guitar in hand.  
But it has changed over time from words leading into music, to words and music together. Today, about half my songs are music first, words later.  
The Future For Abandoned Mansion  
Five years from now, I see myself drinking coffee while watching the sunrise at Laguna Beach, California. Or maybe having a shot (or two) of tequila :). 
Fun fact: I love coffee and tequila, but not together!  
That's still a long way from today though. I take things one day at a time. That's really all we can do.  
Whenever I go on my business travels, I take a guitar with me wherever I go without exception.  
Making music is a visceral experience. I literally feel it like sun on my face, or rain pouring down or the sound and smell of ocean waves at the shore. I plan on creating music as long as my fingers can still strum the strings.  
Before I end this, I'll let you in on a little secret: When I play electric guitar, I often dance in place! 😂😂😂  
Monochrome Girl  
I have a new song coming out on Valentine's Day (2-14-19). It's called "Monochrome Girl". First of all, it's not a sappy love song! Haha!  It's about embracing life and love even if sometimes things seems all gray. My voice will tell the story.  
I'm really excited about it, so stay tuned!  
Follow me on Facebook, Twitter, and Instagram, so you'll know as soon as Monochrome Girl goes live on all the major platforms including Spotify, Google Play, and Apple/iTunes.  
I can't wait to sing this song for you and on the day when love is celebrated around the world.  
And if you want my blog posts go straight to your inbox as soon as I publish them, please subscribe to my newsletter by going here.
Thank you!! So much more to come!!  
William